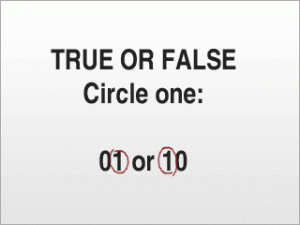 A quick study on Client – IT – Multimedia communication triangle. Also known as "Bermuda Triangle".
One day at work I presented two of my programmer friends with a same problem:
TRUE OR FALSE
Circle one
01 or 10
Just out of curiosity, I wanted to see what they are going to choose. Notice that the problem is a bit ambiguous, as it could mean many things. Now.. what they have done was totally outside my expectations.
Firstly if we treat "01″ and "10″ as a set of binary numbers (which should make sense to all programmers) we have a simple problem. You simply need to pick one figure that represents, or is closest to number one.
Another scenario is pretty much the same but it takes a personal view to determine which one 01 or 10 would represent a value for TRUE and FALSE. So they would be picking either 01 or 10. But no… look at this:
Anish: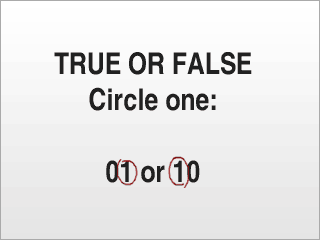 Taz: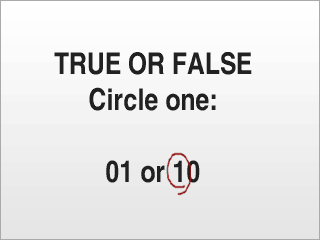 Although they came up with different solutions, Anish and Taz both had the same (strange) approach to the concept and instead of picking one whole binary number, they simply circled a digit "1″ in each set of numbers. Well…the note at the top of the problem said: "Circle one" didn't it. Now what I (as a designer) meant by this instruction was to circle one unit or a figure, not a digit, or an element of the figure. So far so good! More interesting then I ever expected.
Now let's analyse this a bit further. Anish has circled all that's "1″ which kind of makes sense. So if you would translate this analogy to the real world this could be something like this:
a) Client asks programmers to do something and gives a specification of the project in a sense that is seemingly simple to all parties, clients, designers and programmers. But what really happens is everyone understands the problem in their own way.

b) Programming team analyses the task, writes a spec and has a casual chat with a designer.

c) Designers understands it in a designer sort of way, comes back to programming department and realises that's not what they wanted.

c1+n) Designer comes back to fix the problem.

d) Solution is implemented and client is impressed but doesn't really know what to do with it as that's not what he wanted in the first place.
Back to Taz.. His approach is way more complex, or strange, to put it that way. He has circled only onenumber one in a set of two figures. So what could that mean? What went through his head when choosing this option? To Taz, zero followed by one is a false value, where one followed by zero isn't. Or maybe he circled "one" "number one". Who can tell. In any case this is a very interesting psychological study which, I guess, needs more research and experimentation.
I've repeated the same problem by adding the brackets to the instruction lime "Circle one" and gave to Zoe who knows about the problem already but doesn't remember the solution. Her answer is something I expected from the boys:
Zoe: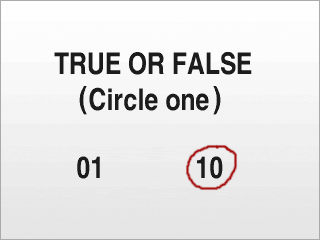 Could it be that a single set of brackets in this example improved the task instruction by 50% or more? What we can learn from this is that client-team communication in programming, design, multimedia and web development isn't something we should take lightly. Sometimes, even the simplest things such as 0 and 1 can be taken in different ways by different types of professions and different type of personalities. So even when everyone agrees that they understand the problem, there could still be a bug in the way of everyone's understanding. Double- and triple-check your client's requests and instructions and don't waste any time on development if there is a chance of a logical error. Probably the best way to go about this is to determine whether the projected outcome satisfies the client's needs. Results are the only thing that interests them in most cases anyway. Sometimes IT / multimedia departments optimise and improve original concepts and solutions proposed by clients and/or management, but sometimes a whole project can turn into a disaster due to the miscommunication – so be cautious and good luck everyone!
"I'd hate to be writing software for life support systems. You'd feel so bad if your bugs were killing people. The call-out would be horrible. Hey we just had 5 people all die in the same room, can you come and take a look at this thing?" Taz