There is an incredible amount of options for DJ's looking for an excellent mixer. Price ranges vary significantly so that mixers are available to any DJ and any stage of his career. The following options are among the best that a DJ can purchase and include all of the standard features as well as many new and interesting innovations. Because they are top of the line, these mixers are also some of the most expensive DJ mixers on the market today.

Pioneer SVM-1000 Audio/Video Mixer
Listing at $8000, the Pioneer SVM-1000 Audio/Video Mixer is one of the best on the market. This is the first DJ mixer on the market which offers DJs 4 channels of audio and video mixing capabilities. It also features an LCD touch panel which can be used to add effects to both the audio and the video. In addition to those features, this mixer includes fader curve adjustment, a peak level meter, a talk over function, a video monitor selection option, MIDI functions, AV sync, a video equalizer and video trim.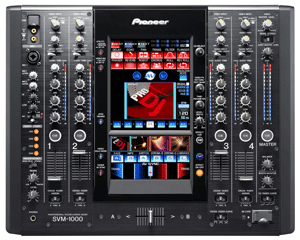 Xone 4D
The Xenoe 4D by Allen and Heath lists at $2999. The Xone 4D includes a USB 2.0 soundcard which allows for 20 channel mixers and switches easily between output and input formats using digital converters. This mixer also includes three turntables with an option for an additional turntable using an internet link and a dual rail cross fader. The MIDI controller used with this mixer provides 105 different control options with 8 push switches, 2 jog wheels, 4 micro switches, 10 rotary encoders, 8 liniar faders, and 50 other switches. The sound quality is also amazing. The 32 bit DSP allows the DJ to mix witout losing an of the sound quality of the original sources.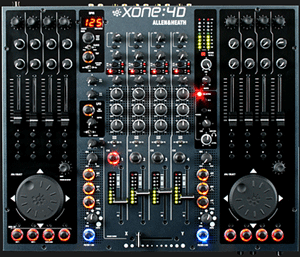 Edirol V-8
The Edirol Mixer is an 8 channel DJ mixer which lists at $2195. It features new special effects which give DJs plenty of new and interesting options. It includes three outputs and eight inputs including a direct input for a computer. Each input has its own fader which is adjustable in addition to the master fader. Not only does the V-8 offer options for multiple audio sources but also multiple video. It's so easy to use that he video can even be controlled through this device while the operator is playing a musical instrument using the V-LINK technology.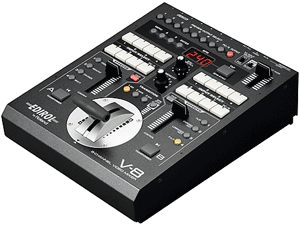 Numark NS7FX
This DJ mixer's list price is $1799. The Numark NS7FX includes two turntables which can operate at 33 or 45rpms. Also included are many effects by Serato ITCH, the same provider of the controls and software. The track access, loop and cue controls are easy to access and cover a wide range of options. The MIDI can be controlled on the mixer itself without using a keyboard or mouse though it does include a laptop stand. This mixer also incorporates new Strip Search technology which offers DJs a virtual needle drop option for more accurate selection of time marks. Also included are D-TYPE line faders and a CP-PRO crossfader.