FLOW DYNAMICS – new electronic outfit from Perth making waves overseas.
Dave McKinney, one of the founders of Rhibosome and a major songwriter and producer behind their debut album, has started a brand new electronic project called Flow Dynamics.
Featuring lots of live musicians, studio trickery, and general funky bizness, Flow Dynamics has a full album coming out later in the year. The tunes tickle their way thru hip hop, broken beats, uptempo breaks, drum n bass, house, downtempo beats and heavy percussion.
Flow Dynamics has already been attracting plenty of attention both in Australia, UK and Europe. To launch the new project, Dave has developed the Flow Dynamics website which is now up and rockin'.
Biography
Australia, 2004: Merging live musicians with a pile of electronics and sampling, Flow Dynamics is the latest project of Dave McKinney, a founding member of Rhibosome – the live electronic act supported by Mr Scruff, Nik Weston, Russ Dewbury, Adrian Gibson, and Yabe UFO.
Rewinding back to 1992, Dave was at uni studying marine biology, but after hearing mad stories of South America he travelled to Brasil for a year where the music, culture and energy completely blew his mind.
When Dave got home the music bug was itching so heavily he deferred his uni and jumped headlong into music. He started playing capoeira with Mestre Jorge (Samba de Roda) and eventually became a core member of traditional Brasilian percussion outfit Ogun Brasil playing Batucada, Pagode, Bossas and Afro Bloco.
Around this time, Dave was also getting right into samplers, drum machines, dj-ing, and anything electronic with a hint of soul or funk. By 1997 he had formed a full studio production team with Clayton Chipper called Rhibosome, and after writing a series of electronic soundtracks for live theatre shows, they soon morphed into a full band and hit the stage.
Since then, Rhibosome has played live shows all over Australia including supports for Coldcut, Rae & Christian, Faze Action, Norman Jay, Ashley Beedle, Jose Padilla, Wiseguys, Freestylers, Aphrodite, Groove Armada, Jamiroquai, Dj Shadow, Ozomatli, Roger Sanchez, & the Scratch Perverts, and at festivals like Vibes on a Summers Day, Gatecrasher, Breakfest, Ministry of Sound, Livid, Splendour in the Grass and the Big Day Out.
Rhibosome has forthcoming releases on Freestyle Records (UK) in 2004, as well as past releases on Offworld Sounds (Aust), Hydrofunk/Virgin (Aust) and Marble Bar (UK). Rhibosome has also remixed Indian percussionist Trilok Gurtu, Aboriginal musician Richard Walley, Zimbabwean outfit African Music Congress, and Australian beats producer Katalyst. Dave has also spent a lot of time dj-ing playing funk, hip hop, house, broken beats and afro and latin tunes. You can hear some of Dave's dj-ing selections on the Funk Truck Mixtape Series Volumes 1-4.
In 2004 Dave started the new Flow Dynamics outfit and the debut album is taking shape as a mashed-up mix of funk, hiphop, breaks, house, drum & bass, broken beats and heavy percussion – new Australian tunes taking in influences from London, New York, Sao Paulo, Tokyo, Berlin, Perth, and everywhere in between…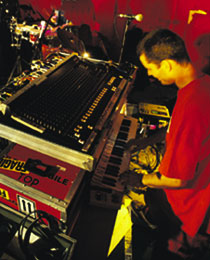 Chek out some of the tunes and find
out some more info: 
Flow Dynamics Web Site