'I've never heard so much bass come out of such a little person'  someone once said to BeXta after one of her sets, BeXta is known for her hard trance, bangin beats and energetic vibe created every time she hits the dex. Sydney born Aussie, BeXta has spent her life around music, playing the piano since the age of 9 and writing music since 11. But she also had a passion for technology, and when she was exposed to the magic of dance music and raves in 1992, she knew this was meant to be.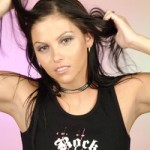 BeXta started producing and performing dance music in 1993, and extended her talents to dj-ing in 1996. She has been playing continuously since then across the land of Oz, at clubs, parties and festivals, to crowds of up to 14000. She has graced the stage along side acts such as Bjork, Prodigy, Fat Boy Slim, Chemical Brothers, Basement Jaxx, Timo Maas, Carl Cox and John Digweed, at events like the Big Day Out, Gatecrasher, Slinky and Utopia. BeXta has held the title as Australia's No1 female dj for a few years now, and earned a place in the top 5 Australian dj's in a recent Australian poll.
BeXta has been releasing music in Oz since 1995. She has released 6 singles to date, several remixes, and a live EP, which did well on the national charts. 2001 saw BeXta hit the international stage, with gigs outside Australia, and had her first international release "One for the Road", released through Eve Records, on the Recover label. One for the Road was also remixed by UK Hard House legend Andy Farley. The track was received extremely well by the global community, appearing on many top UK dj's charts, including the Radio One anthems chart, and released on a swag of compilations.
2002 is BeXta's year, as her demands as a producer and a dj are internationally in demand. It seems we might see and definitely hear more of BeXta, and so far there is no one complaining, just a lot of people dancing.
DOWNLOAD BEXTA MUSIC AND VIDEOS / MP3, MP4 & MOV (MPEG, MPG, QUICKTIME)