Coming from a musical background, with a grandfather who was a high school music teacher in addition to playing bass guitar with Bill Haley and the Comets and a father who played in a variety of rock bands throughout the 1950s and 1960s,Sean O'Neal co-founded the Tuning Spork and FuzzyBox,the Foundsound,Unfoundsound and Little Helpers record labels.
Sean O'Neal, who goes by Someone Else is one of the leading innovators of the electro-pop, deep house, and minimal techno, and experimental music sectors. His skills in music production have earned him praise from critics all over the world, resulting in extensive global tours throughout Russia, Argentina, Europe, Canada, Japan, and the United States. In addition to co-founding record labels like Tuning Spork, Sean O'Neal has produced various events in the Philadelphia and New York City areas as well as writing for different music magazines and newspapers like xrl8r and Philadelphia City Paper.
Someone Else – Analogik.com LIVE

Can you tell us more about your background? What were you into before music?
I grew up in a musical family. My father was in a couple semi-successful rock bands, and my grandfather (my dad's father) was a high school music teacher and also played bass with Bill Haley & His Comets. As a child, I did a lot of musical theater and I sang in choirs. As I got older, I learned some basics in playing guitar, keyboards, bass and drums. By the time I was in high school, I was in a variety of indie rock and hardcore bands. After high school, the band that I had the most success was with Flowchart. We were often compared to Stereolab and My Bloody Valentine. We released dozens of singles, albums and compilation songs. I was doing Flowchart up until I started making dance music under the name "Someone Else" around the year 1999. And around that same time, I started working at a record shop for dance music in Philadelphia called 611 Records. I worked there for 7 or 8 years. Working there helped me gain some clout in Philadelphia and New York, and I started DJing techno, tech-house, minimal, deep house and IDM on a weekly basis in those cities. At the same time, I also started to do freelance journalism. I was earning my main income for almost 10 years by writing for a variety of magazines, newspapers and websites — like XLR8R, CMJ Monthly, AOL, Philadelphia Inquirer and others. In 2007, I quit writing and moved to Berlin so I can focus on music full-time.
Many changes have occurred in the electronic music world, including the musical tastes of its audiences. What prompted your emphasis on minimalistic performances and recordings?
Regardless of genre, I have always been a fan of music that is more leftfield or more experimental than what's popular. While working at the record shop, I was first really intrigued by IDM and loop techno. But as soon as minimal techno started to break more and more through the surface, I was buying up all the minimal records that came into the shop each week, and I was constantly hungry for more. Matthew Herbert was a huge inspiration for me at that time. At the time, for me, minimal techno and minimal house was the most experimental and druggy dance music. And as I started to produce more and more of my own minimal techno, I became obsessed with field recordings and samples. I would sample anything and transform that sound into a hi-hat, a snare, anything. I was amazed how easy it was for me to cut up samples and use them in music. I would sample things like dropping pencils on a wooden floor, closing a door, a squeaky chair, a ham radio, my own voice, and the list goes on and on.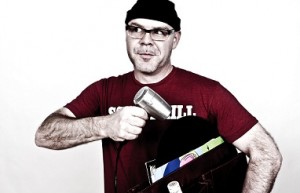 Did you receive a great deal of assistance when launching your various careers? Did you benefit from a mentor or other experienced professional, or did you climb up the ladder on your own?
With everything that I have achieved, I achieved all of it alone. Of course, I was running record labels with other people. So the labels were mostly a team effort. But as for my DJ career, my music production career and my journalism, I did all of this 100% on my own without any help from anyone. Actually, I was the guy that ended up helping dozens of other producers climb the ladder and reach success. And many of them now are quite popular — some way more popular than I have ever become. I could name a few names that you surely know, but I won't because that would be lame of me. I always hated the fact that many producers view each other as competition. I don't like to have that kind of stress in my life, so I've always felt satisfaction in seeing my friends achieve more success with my help. I like being a nice guy. It's rewarding and makes me feel good. And my career has never been effected in a negative way by helping others who deserve success achieve that success.
Do any of your previous tracks or albums have more meaning to you than the others? How do you feel about playing these older songs on request?
I guess I would have to say, no. There are many tracks that I have made that I do not like so much. But as for my tracks that I am proud of, it doesn't matter to me whether they were made in 2002 or 2012. Besides, time for me is always one big blur. So it's all the same to me, I guess.
As the future unfolds, do you have any other types of music you would like to explore?
Actually, yes. I hope to collaborate with my wife, Alex Monster. Hopefully, we will do something like synth-pop. I would also maybe like to try to resurrect Flowchart again and make some indie pop. I also want to start using an acoustic guitar and my voice and record simple acoustic folk songs. Yeah, I have plans. We'll see how they pan out. And of course, I will continue making more tech-house, minimal and all that "Someone Else" stuff.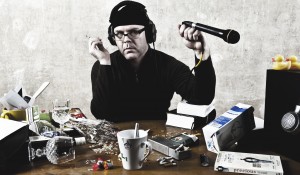 Getting back to the present, there has been a bit of gossip about your personal life, particularly about your future wife. We already know that she is a DJ,but we would appreciate the endeavor and would like to hear more about it in your words.
Sure. Aleksandra Stanojevic (a.k.a. Alex Monster) is from Belgrade and Bijeljina. We played together in Italy once, we got to know each other, we fell in love, realized that we want to be together all the time, and now we are going to have a baby girl together in the middle of August 2012. We will name her Luna. We plan to live together for a couple years in Berlin, and then possibly move somewhere else. Maybe USA. Maybe another country. We will see. Our future is wide open. Life is sweet.
The Tuning Spork and Fuzzy Box record labels are very unique names. Could you tell us more about what inspired this concept?
Well, those are just two of a handful of labels that I ran and co-ran. I am also behind these labels: Foundsound, Unfoundsound and Little Helpers. I will give you a brief rundown of my labels. In 1994, while Flowchart was just getting started, I launched a small indie label called Fuzzy Box, and this label immediately landed a distribution deal with Darla Records. Fuzzy Box released a variety of indie rock, synth-pop, experimental, ambient and IDM. At first, Fuzzy Box only released 7-inch vinyl. Then the label moved on to 12-inch and CD releases. I haven't released anything on Fuzzy Box since 2003. And around 1999, I started DJing minimal in Philadelphia alongside Jay Haze and Bjoern Hartmann. Since we were basically the only guys in the city that were pushing this sound, we decided to launch a record label together. So we started Tuning Spork. But a few years later, Jay and Bjoern moved to Europe while I remained in USA, and they continued that label while I started a new one. By around 2003, I was heavily into using field recordings in my music as I said before, and so I teamed up with Kate Iwanowicz (a.k.a. Miskate) and Sylvain Takerkart (a.k.a. Fusiphorm) and started Foundsound Records — a label that was largely focused on minimal techno and tech-house based around field recordings and "found sounds." Foundsound is a vinyl and digital label, and I still (mostly alone these days) continue to run Foundsound to this day.
At the same time as launching Foundsound, we also launched Unfoundsound which is a free netlabel with almost 70 releases as of now, and anyone can download these releases for no money at any time. The music on Unfoundsound is usually deeper and more experimental, mostly minimal techno, but also ambient, experimental, deep house, tech-house and other styles. Unfoundsound also continues to release music to this day. And more recently, at the end of 2009, Andrew Rasse (a.k.a. Butane) and I started the Little Helpers label. It's a digital label only on Beatport with one or two releases every month from when we started until now. The concept of Little Helpers is somewhat inspired by lockgroove vinyl records. The tracks on Little Helpers are somewhere in between a tool and a track — based around one solid groove. The tracks are suitable for editing, layering, looping, or they can stand alone if the DJ so desires.
You must do quite a good bit of traveling due to the nature of your work. Can you tell us which destinations you have found to be most intriguing?
Yeah, I have been all over the world quite a bit. And I find almost everywhere I go to be intriguing for different reasons. Japan is always fun because I feel like I am in a cartoon land, the food is amazing there, and the people bow to me and are so fucking polite that I want to puke a rainbow. Russia is interesting because it's creepy as fuck. Argentina is nice because I chill out with a nice beef dinner and excellent wine. Uruguay is basically just more Argentina. France is awesome because I like the way French people think. Serbia is fun because Serbian people have an intelligent sense of sarcasm that I can relate to. Brazil is fun because it's one big party all the time raging with Brazilian jazz, samba, and that kind of stuff, plus great food. Peru's seafood is amazing. Ecuador is really fucking hot and humid. Some of the friendliest people I have ever met are in Mexico. Canada is USA's hat. Germany is wonderful from a techno producer's perspective because most ordinary folks there such as blacksmiths, doctors, lawyers, teachers, even German farmers, all appreciate that kind of music, which is a rare thing in this world. Georgia feels like a mix between Russia and Turkey. Israel is OK I guess, but I don't have much to say about it. It snows too much every time I am in Croatia. Italy is disorganized, a lot of them put cocaine on their Corn Flakes for breakfast, but the parties are usually good and the wine is amazing. Every time I go to the UK, something seems to go wrong. Spain is super relaxing and friendly, they know how to eat, and I've often considered moving there some day.
CD's or Vinyls?
I never use CDs. Since I worked at a record shop for so many years and acquired thousands upon thousands of my own vinyls, it's safe to say that I have always been a vinyl junkie. However, a few years ago, I switched to Traktor Scratch, which I use with turntables while sometimes still using real vinyl as well. I like Traktor because I can play new tracks that I recently made or that my friends made, as well as digital promos. Plus, a lot of music that I want to play is not available on vinyl. I also like some of the functions of Traktor that I can't get while using normal vinyl — such as effects and looping. But I still match the beats myself. I will always be somewhat old-school in some ways.
Music fans are always interested to learn what types of music their favorite performers enjoy. Outside of the electronic music realm, which artists do you personally find most compelling?
I listen to a lot of indie rock, acoustic folk and jazz. I am not sure which artists to name because my favorite ones change on a weekly basis.
What type of performance equipment and staging do you generally use, and how is it transported, set up and ultimately disassembled?
I bring a laptop and controller. It doesn't take much effort for me to set that up. Back when I was touring my live performance in 2004-2006, I used to also bring some external samplers, synthesizers, drum machine, microphone, and some other toys. But airlines and airports were really frustrating when I would try to transport all of this stuff. Because of that, I slimmed down my gear and made traveling as simple as possible. Sometimes, however, I still bring hardware to live performances. But not as often these days.
I would imagine there is a great deal about your career you find thrilling, but if I asked you to reveal something about your work you do not enjoy, what might it be?
Sometimes, to keep my career afloat, I am forced to make tracks in the studio when I am not feeling inspired. For me, this is kind of like taking a shit on art. It's difficult for me to be creative when I am under pressure for the sake of my music career. Creativity is often spontaneous or inspired, which is the ideal time to make music or any form of art. It's best to make a track when I am not thinking about where this track may be released, or how it will be released. It's better to be free and creative and not have to think about such things.
What advice would you offer beginning producers and DJs hoping to advance their careers?
Unless you are fucking amazing, don't bother. This scene is way too over-saturated now with too many shitty producers and DJs — which makes the scene so cloudy that much of the good music and many of the good DJs hardly get recognized anymore. So, wait for the next new bandwagon to roll along, and jump on that one. This bandwagon is already way too full.
Article by Anna Kec