News of David Bowie's death to cancer on January 10th shocked and saddened the world. Just 69, Bowie is a legend that influenced art, fashion, LGBT people and music throughout a career that spanned parts of six decades. Inducted in 1996 into the Rock and Roll Hall of Fame, he had helped heal the world by performing his song "Heroes" at the Concert for New York City following the terrorist attacks on 9/11. Fittingly, this was the same tune he chose during his appearance at the Concert for Berlin in 1987, seen as a catalyst for tearing down the Berlin Wall.
David Bowie on the Set of Just a Gigolo in Berlin, February 1978. Photograph: Alain Dejean/Sygma/Corbis
Bowie was the original shape-shifter, constantly reinventing himself and his music throughout his life. Because society's rigid norms, he did much more than push the boundaries of reality, but used the creative license his music allowed to continually morph his image, his art and his music and stretch the boundaries for LGBT youth and others that emulated and connected with him. Indeed, in an article from 1996 in the UK Telegraph, David was able to say, "I have done just about everything that it's possible to do".
1971: Pop star David Bowie with wife Angie and three week old son Zowie. He is modelling an Oxford Bags dress, Turkish cotton shirt and a felt hat.
Bowie's influence is everywhere: from art to theater and music, Bowie helped spur irrevocable changes. Guitarist Johnny Marr of the English rock band, The Smiths, said of Bowie that "There are musicians who are influenced by him that don't even realize it".

American singer-songwriter and DJ, Moby, takes it a step further: "Without David Bowie, popular music as we know it pretty much wouldn't exist." Half of a storied friendship for the ages, Moby also tweeted after Bowie's death was announced, "we lost the best musician of the 20th century and i lost a friend. goodbye, David. I will always love you."


Bowie & Moby

Though not wholly political, Bowie had a huge influence on the world stage. His song "Heroes" was written during the time he lived with Iggy Pop in Berlin, witnessing news coverage of shootings and drownings of those trying to escape to the West. His performance during the Concert for Berlin in 1987 led the youth on the East German side of the wall to chant, "The wall must go!" inflaming guards and leading to beatings which underscored the inhumanity. A week later, Ronald Reagan visited and gave a speech at the Brandenburg gate, including this famous line, "Mr. Gorbachev, tear down this wall!" The rest is history.


David Bowie: "Heroes" live in Berlin 1987

News of Bowie's death has brought condolences from around the world, Electro house musician Steve Aoki tweeted, "Ground control to Major Tom…#RIPDavidBowie."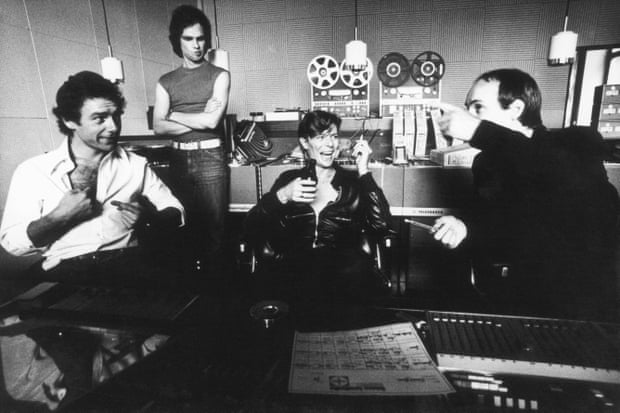 Perfect Stranger about the legendary musician: "R.I.P David, your music was ( and still is ) a great influence and inspiration.", "The stars look very different today".
Annie Lennox wrote on Facebook:
Madonna posted a photo of them together on Twitter, accompanied by "Hot Tramp I love you So!"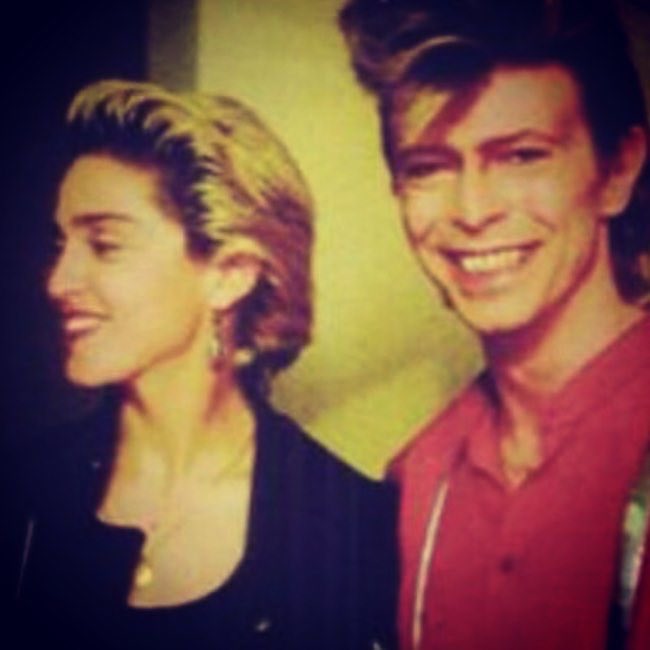 Tributes continued to pour in all week. Skrillex took to Twitter to thank David "I was young and misunderstood. You made it okay for me to not only be myself, but to shoot for the stars and dream big. I owe you for that realization and inspiration." Carl Craig spoke of his love for the man with his tweet, "RIP David Bowie. He has been in my life since I was a young boy. He inspired Kraftwerk so he also inspired Techno music"



Paul McCartney posted on his website, "His music played a very strong part in British musical history. His star will shine in the sky forever."

The Pet Shop Boys thanked him by posting, "We are all Bowie's children. He inspired us and changed our lives. Love, gratitude and respect always for him and his work."



Perhaps one of the most unlikely of the tributes to Ziggy Stardust came from the German Foreign Office on Twitter, "Good-bye, David Bowie. You are now among #Heroes. Thank you for helping to bring down the #wall."


Released on David's 69th birthday, January 8th, only days before he passed away, his last album, "Blackstar" is headed for No. 1 on the US Billboard charts, something he had not achieved during his lifetime.



Even his death is an Act Of an Art

His friend and producer, Tony Visconti, took to Facebook to memorialize Bowie, "He always did what he wanted to do. And he wanted to do it his way and he wanted to do it the best way. His death was no different from his life – a work of Art. He made Blackstar for us, his parting gift. I knew for a year this was the way it would be. I wasn't, however, prepared for it. He was an extraordinary man, full of love and life. He will always be with us. For now, it is appropriate to cry." Indeed.



Image Courtesy of The Guardian & Mirror.co.uk