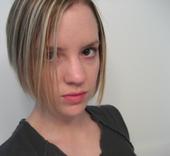 Carrying on the tradition of truly great stateside IDM artists, Quantazelle refines her works from the ground up. She integrates complex rhythm programming, innovative sound design, and a macrocosmic vision with solid engineering. Fitting perfectly alongside Warp, Neo Ouija, and Ghostly International artists, Quantazelle's output is as diverse in emotion as it is in intensity.
A self-proclaimed "multi-hyphenate," Liz McLean Knight–the sole woman behind Quantazelle–is thoroughly immersed in technology, fashion, music, and the often-surprising overlaps between. When attempting to circuit bend battery-powered music toys for an upcoming music performance, she discovered that electronic components can be turned into elegant jewelry and started an entire tech-fashion line called Zelle.
While devising a content management system for her online experimental electronic music magazine, Modsquare she learned various web-based programming languages and related technologies, having a head start from her one time computer science college major. With that knowledge she then started an online store, Fractalspin, to sell not only her jewelry, but also accessories and gear for the technologically-sophisticated yet fashionably-minded crowd.
Desiring to assist similar artists reach a greater audience as well as provide gear for electronic musicians, she started Subvariant–a record label and accessories company behind the well-received Electronic Musician's Emergency Adapter kit.
As laptop-DJ Liz Revision, she selects both experimental ambient and glitchy techno in response to the aura of each night (including a recent co-promotion and residency at Ramp Chicago's Sonotheque nights). As Quantazelle she combines complex percussive programming, sonic innovation, and engaging sound design together with an approachable melodic sensibility and often booty-shaking result.
Liz lives and works in the Wicker Park neighborhood of Chicago, USA, sharing a cable-strewn apartment with her boyfriend, their two dogs, and an army of music gear and computers.
LINKS
Quantazelle: http://www.quantazelle.com
Liz's blog with DJ sets: http://www.lizrevision.com
Residency @ Sonotheque: http://www.rampchicago.com
Fractalspin online store: http://www.fractalspin.com
Subvariant label & gear co: http://www.fractalspin.com
Electronic Musician's Emergency Adapters: http://www.emergencyadapters.com
Zelle jewelry: http://www.zellestyle.com
Modsquare website (currently being completely rebuilt): http://www.modsquare.com