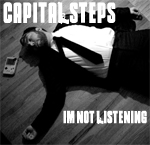 Artist: Square Wail
Album: I'm not listening.
Celebrating the timeless sound of Nintendo GAME BOY ™
Square, Saw, Sine and Noise. It's all it takes to make great electronic music, but when you reduce it to 8-bit word then it all becomes a challenge. Square Wail pushes the boy to the limits of possibilities and explores the rhythm and melody in a fresh, yet such a familiar way. "I'm not listening" – composed and written by Matthew Kenall, mixed by Kory Krukkenberg and mastered at Bonati Mastering NYC.
Album Tracks:
BARBARA
BROKE TOE
EVELYNS RIDE
HOWS THAT GOING FOR YA?
REAL CLASSY
SEE YOU LATER
STARS
STINKY
SURE, SURE, SURE
WHO CAN SAY?
Finally something fresh arrives to Analogik. Perhaps because of nostalgia, perhaps due to it's up-beat mood, this whole album is a cheerful and uplifting experience with quite a few great moments. (For example, twelve seconds before the ending of "See you later" track – all sounds stop except for one beautifully simple solo that stops as abruptly as it starts, ending the track). Don't be fooled thinking this is yet another GAME BOY™ inspired artist, recording, tweaking and mixing the samples into the newly created music.
Boys and girls – this is real stuff. Square Wail writes and performs music on the actual gaming device, and if you don't believe it – get the album and have a listen. If that's not good enough go and see Square Wail live in action.