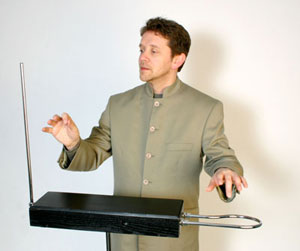 With his theremin, live electronics plus his exotic acoustic instruments and voice with special effects, Chris Conway is an astounding creator of unique atmospheric new and electronic music.
Ranging from freeform improvised electronic soundscapes to atmospheric ambient music, he has released several internationally released several CDs in the electronic genre.
Hailing from Michigan USA, Chris Conway has built his music career in the UK, becoming one of the most fascinating musicians on the scene. As well as being an electronic musician, he also plays music in mnay other genres – singer-songwriting, world music, Celtic, new age, and jazz all make up Chris Conway's musical world.
His huge and unique experience of different music genres, together with his skills on so many acoustic and electronic instruments is part of what makes Chris Conway's music so special. The music just get inside your head – and stay there
Time Out Magazine of London said of him, "He purveys a lilting and melodic music of depth and emotion"
Chris Conway is a true multi-instrumental wizard playing… piano, keyboards, 9string acoustic & electric guitars, low, tin & twin whistles, live electronics, kalimba, theremin, zither, and vocals.
Chris Conway has released over 35 CDs under his own name or with his bands. His music has been heard on UK National and European TV, Radio, and film. His CD of relaxation music Ayurveda has sold over 10,000 copies worldwide.
Chris Conway has worked with ….
Peter Tork (Monkees) , Martin Barre (Jethro Tull) , Maartin Allcock (Fairport Convention, Jethro Tull), Clive Bunker (Jethro Tull), Vikki Clayton, Ithamara Koorax, Talvin Singh, Dr L. Subramanium, Derek Bailey, Gavin Bryars, Sakari Kukko (Piirpauke), Pete Morton, Thiago de Mello, Llewellyn & Juliana, Ramesh Mishra, Martin Speake, Sally Barker, Partho Sarathi Mukherjee, James Lee Stanley, Cathy Lesurf (Albion Band), Kevin Kendle, Tommy Emmanuel, Baluji Shrivastav, Andy Sheppard, Guy Barker, and more….
So check out Chris Conway's music and hear some extraordinary creativity and some beautiful music.
Website: http://www.btinternet.com/~unclechristo/ccelectronic.html
Music: http://www.mediamax.com/unclechristo/Hosted/misc/cconwaytheremin.mp3