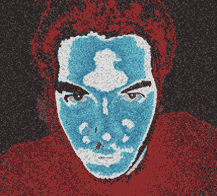 Mexican sound project encompassing different styles, sounds and musical ideas. Having the electronic sound as the main characteristic and the awakening of sensations and emotions as the principal objective. Ixmati tends to capture and express its word definition in its music.
Ixmati is a Mayan word that means to be conscious. Its also a project born in Mexico City to produce electronic downtempo music. Its aim is to reflect its word meaning in its music. Guillermo Ruiz, the mexican producer behind the project moves to London where he discovers electronic music and the technology around it and this has a great impact on him. He then travels through Asia getting in contact with his spiritual path and studies some arquitecture, photography and design in California. There a good friend of his shows him for the fisrt time a groovebox, he fells in love with the machine and spends days playing with it and learns how to use it. Later he decides to pursue his musical ideas.
Guillermo settles in Mexico City and studies Music Technology & Production recieving an honors mention for his 7 track thesis ixmati DF. Chill Sessions. Currently he lives in Guadalajara Mexico where he works and produces his downtempo music.
Sample Tracks:
Website: