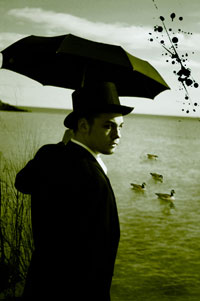 Silent Narcotic is the pseudonym of the musician/songwriter Scott Fitzpatrick records and mixes under. Silent Narcotic is a fresh breath of air in a landscape plagued by generic, paint-by-numbers indie/pop-rock artists.
That's not to say that 5ilent Narcotic isn't poppy or doesn't rock: au contraire! the band fuses catchy guitar hooks, droning bass melodies and dueling synthesizer keyboards with industrial and electronica-influenced back beats that mesh to create a unique and powerful sound. This impressive convergence of influences creates something at once familiar and yet unprecedented.
Influenced by everything from Nine Inch Nails to Matthew Good, Fischerspooner and The Faint to Death Cab For Cutie and Blink 182, the sound that comes out of Scott's head can only be called the wave of the music in electronic music.
Note: The mp3 sample included is a collection of demo clips from the upcoming record "The 12 Step Program" (missing various final elements such Vocals, Guitars in some cases, real Drums in some cases and various other percussion and synthetic elements).
Biography
Scott Fitzpatrick was continuously surrounded by music as a child; whether it came from his mother's vinyl records (from such varied artists as Lionel Richie, Wham, and Duran Duran), or his father's cassette tapes of The Beach Boys, The Supremes, and The Doors, music was always a part of his life. In grade school, Scott would often get in trouble because he was too deeply immersed in listening to Michael Jackson's Dangerous album to complete his homework. Towards his preteens, he had discovered the medium of compact discs, and began amassing his own collection of albums, including Aerosmith's Get A Grip and Ace of Base's The Sign with his allowance money.
Scott's first real electronic influences came from a Buffalo radio station that featured a live club feed playing the popular styles of Techno and House at the time. During the latter years of grade school, in an attempt to break away from his reputation of being the quiet kid who liked Dance music, Scott began spending time with a crowd who brought various Alternative Rock bands to his attention such as Moist, Bush, Foo Fighters, Our Lady Peace and The Smashing Pumpkins. During his inaugural year in High School, a friend made him a cassette copy of Nine Inch Nails' Pretty Hate Machine; having already bought The Downward Spiral album the year before, Scott had discovered his main influence.
In 2003, Scott began studying Audio Engineering and Recorded Music Production at Trebas Institute in Toronto. Scott excelled in courses such as MIDI, Studio Design, Signal Processing, Digital Music, Post Production Audio, and Live Sound. During his time at Trebas, Scott had the opportunity to learn the art of recorded music production in various Toronto area studios such as Studio 306 (Sherbourne& Dundas E. – Mitsubishi Weststar Analog Console), Studio 120 (No longer in existence), and CBC Studios (Front & John St. – Neve Capricorn Digital Console), as well as Trebas Institute's own three Protools Labs (Digi 24 Digital Console, Mackie Analog Mixer). In March 2004, Scott graduated with
honours with an average of 84% over three semesters combined. Scott currently works as Senior Toronto A/V Technician for Federated Press.
Scott keeps busy by working on remix projects for independent artists, D.J.'s in the local rave scene, and continuously checks out various local shows looking for promising artists that he could help to enhance or even just to cut a demo reel. Scott lives with his father and sister in his modestly accommodating home in Scarborough, Ontario, where he has converted a room into a recording space as well as a stationary place to tackle the various tasks and projects for work related purposes, from a simple acoustic demo to a full length electronically based album.
In the other realm as an artist, originating from audio-engineer and soundscape visionary Scott Fitzpatrick's experimentation with laptop-based audio manipulation software, the exercise quickly evolved into a full-blown project that could not be contained on one man's PC.
Armed with a stack of self-made CD-R demos (entitled Transpoetry), a laptop filled with samples and drum loops, and newly acquired lead guitarist, Steve Januszewski (Scarcliff), 5ilent Narcotic stormed stages around the Greater Toronto Area, honing a live act that's as energetic and exciting as the recorded music.
However, the loops and samples placed limitations on the envisioned live act. Shortly after the release of a second demo/remix LP, Disconnected, the live band was fleshed out with the acquisition of Pierre Aube on the electronic drum kit, and Jason Moore (rawk/paper\scissors) on bass and synthesizers.
Now, a refreshed and rejuvenated 5ilent Narcotic is looking to conquer clubs and radio stations across the continent with their distinct brand of industrial infused brand of synth/pop-rock.
Be sure to pick up the self-produced Disconnected LP at the live show or download it on iTunes today!
Sample Track: http://www.silentnarcotic.com/Downloads/Demobits.mp3
Website: http://www.silentnarcotic.com