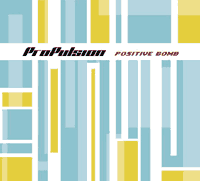 5. 9. 2006, Prague CZ,  PROPULSION project debuts with record Positive Bomb
Positive Bomb
A seasoned producer ProPulsion comes with a rounded album of eleven bright compositions which sails  smoothly through the waters of an electro music lightly relished by the breakbeat and retro sounds. Positive Bomb is an album with a great and impressive atmosphere shot through by catchy pulses and sophisticated settings with a lot of fancy details.A cool character of Propulsion comes not only with an energetic pulsating electro music but with an etheric ambient composition as well.
The whole sound mix and the musical performance was taken care of  by the master of this domain Ecson Waldes (certificated by the price of Angel 2003).Album was mixed in the studio Biotech during a time from 2004 to 2006.Closing and mastering was made by Roman Kasnik.Thank to preciseness of all the artists above and their professional spirit the album Positive Bomb fascinates with an unheard dynamics and a perfect quality of a clear sound.
The album Positive Bomb was published at own cost by a project propulsion and by a great assistance of some particular sponsors.
Track list:
01 Really Fat Stuff
02 Mc C.A.T.
03 Plastic Beats
04 Heliosun
05 Melisma
06 Elements
07 Remake Me
08 Aquadust
09 Alone – remix, vocals by Stork
10 Underwater Cities
11 Subforms – original mix 2001
Total time: 51:48
ProPulsion
The whole project Propulsion was managed and created by the producer of electro music Miroslav Jirku (27) who's been working on all his music for more then 10 years.
In years 1995 – 1998 had Mr.Jirku especially worked on the Electronic Body Music which has through all kind of various styles passed over to his current production – a smoother and more comfortable form of the electro music.After all the demo records what has Mr.Jirku released ever since he has also spent a lot of time as a music remixer.All this knowledge and experience has been used and exposed to the album Positive Bomb which has been coming out for sale in these days.
ProPulsion – info/contacts:
mail: propulsion@seznam.cz
web: http://www.propulsion.cz