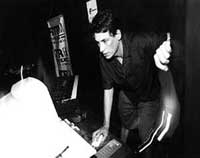 Audio Cephlon (aka Greg Lawrence) can best be described as an electronic musician fascinated with the technological future. His compositions, which journey through different genres, are gently bathed in futuristic atmospheres and synthetic melodies.
Influenced by the work of artists such as Arovane, Aphex Twin, Autechre, LFO, Future Sound of London, and local Perth acts such Sensory Overload and CSU, Audio Cephlon came into being in 1997 with the purchase of an Ensoniq Mirage sampler.
Audio Cephlon has also been recently interviewed on Triple J's Soundlab program with his brother Brendan (Ele-mental) about Kieper Records. He has also performed at presented a panel on audio production at the 2004 National Sound Summit in Newcastle.
More recently, Audio Cephlon has been gaining a greater international profile by been released and gaining airplay on London-based radio station Resonance FM, as part of the Albino Radio Show (www.albinoradio.com) and having a debut EP net release on UK ambient label Kahvi
Releases
First released in 1998 on Divination Music's Black Paradigm CD with his Calx track, it wasn't until three years later that Audio Cephlon made a much greater impact on the Australian Electronica scene. In response to sending out a few demos, Sydney-based label Clan Alnalogue offered Audio Cephlon a spot on their locked groove vinyl release and its Clan Recordable compilation. Since then, Audio Cephlon has had a steady stream of releases.
In 2002, Audio Cephlon released the Aether compilation on his Kieper Records label (www.kieper.com.au), which was launched at Perth's long established Aesoteric night, receiving positive praise from Perth's street press.
In 2004, Greg released the Aether 2 compilation through Kieper Records, scoring airplay on 2SER, 2XX, FBI, 3RRR, 4ZZZ, SBS's Alchemy Radio Show, ABC's Triple J and Radio National. Aether 2 was also local release of the week on RTRFM and gaining distribution through Australian electronica label CouchBlip!
Oak. Split EP with Leonardo's Robot. Universal Cooler, UK 2006
Here Comes Mr Whippy b/w Captain Howdy Rides Again on the 4-4-2 music e-single of the month February, 2006
Oort EP – Kahvi – 2005 – (UK net label).
Alluvial – Blurred Hues, cowritten with Matt Rosner – 2005 (Room 40).
Audio Cephlon Debut net EP featuring Polaris, Glitter Gulch and Wrapped in Nori released on UK ambient label Kahvi (2004).
Automation featured on the Semikazi 02 compilation (2004).
Tracks Seat Up and Sojourn Yawn featured on the Indian and Big Lebowski Albino Radio compilations. Albino Radio is a regular show on the London-based Resonance FM radio station (2004).
An Audio Cephlon remix of Half Asleep appeared on Halogen's Building at the Edge of the Sky features The track appears on both the CD and vinyl versions of the release (2004).
Audio Cephlon releases the Aether 2 compilation featuring11 Perth electronic Artists. Compilation features the Audio Cephlon track Autotmaton (2004)
Automation features on Sydney label 442's Reclaiming Melody (2003).
Captain Howdy Rides Again featured on the Semikazi Compilation (2002)
A Deep Stretch featured on the 2002 Kiss My WAMi compilation.
Audio Cephlon release the Aether compilation on his Kieper Records label featuring the track My Head Gets In The Way Of Infinity and a remix of the New Sirus Projects Nazara track (2002).
Audio Cephlon's remix of the Black Captain's Nomad track also released on vinyl in Germany through Hardline Recordings (2002).
Audio Cephlon's remix of the Black Captain's Nomad track featured on the Black Captains DAM It To Eternity album (2001).
Captain Howdy Rides Again track featured on the 2001 Kiss My WAMi compilation
Nancy's Boots, Clan Analogue's Recordable 2 compilation (2001).
Four loops featured on Clan Analogue's Locked Groove vinyl release (2001).
Calx, Black Paradigm, Divination Music (1998)
Reviews
"Audio Cephlon takes electronica back to its roots – good old fashioned mellow IDM with a sentimental edge with obvious influences such as boards of canada et al, audio cephlon creates complex rhythms and highly emotive melodies with a soft and padded feel."
Kahvi Records review – September 2004 (http://www.kahvi.org/)
"Coming on like garbage era autechre, with the pairing of big synth washes and scatters of percussion, Audio Cephlon tread that uneasy edge between what was once known as chill-out and what now bears too much baggage to adequately describe (courtesy of the twin horns of new age blandness and allusions to intelligence). His tracks tracks emerge in a lovely, organic fashion such that they pass like a good train journey you arrive at the appointed destination feeling refreshed and somehow fulfilled, rather than lost, alone and drained of life."
Cyclic Defrost – Issue 3 March 2003
"Audio Cephlon who surprised many by opting for an almost orchestral ensemble of sounds. there was a feel to the epic to Audio Cephlon's offering (which seemed possibly a little warp-label inspired). stylistically, the music mutated at a rapid rate, wandering from some crunchy percussive, slightly house experimental moments to mid tempo bit crushing outings. Definitely interesting, Audio Cephlon's output evolved into an industrial inspired adventure, thanks to a few noise artist elements that truly built up the intensity of the mix. As a complete unit, this set really worked the listener through a whole range of differing moods, from the mellower opening to the almost anarchic closing moments."
Hype Magazine – 16 January 2002
"Fans of Black Dog, Autechre, Machine Paisley and the like will love Audio Cephlon.
atmospheric acid ambient synths soar & simmer over quirky, crunchy beats, that are influenced by jungle, trip-hop and drum & bass.This is a sonic meeting of organics and mechanics."
Blatant Propaganda e-zine – June 2002.
"Audio Cephlon manages to combine funky and innovative sounds with a musical sensibility that seems firmly based in the old school dance scene – music that is unique, catchy and danceable but not in the standard and often boring club-orientated way."
Zebra Magazine- 11 January 2001
Official Website: http://www.audiocephlon.com/