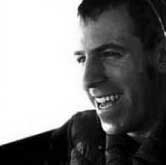 Born in Brighton, England and now hailing from Western Canada, Phontaine released 'aqui' in late 2001 under the name 'earball'. The appeal of the album reached all over the globe. "I just tried to make something familiar but fresh, something I'd like to listen to". Phontaine doesn't take a conventional approach to creating music; " I don't listen to music as most people do, I've always absorbed tones and timbres before notes and arrangement. I blend instruments, ambience and sounds and maintain the sonic quality of their era. I hope this brings a sense of nostalgia to the listener."
"It's electronic music for sure, but less abrasive than alot
of the stuff out there, I want it to sound as warm and authentic as possible, like warm 70's electronic music but with some new modern tones mixed in."
After the indie success of 'aqui', Phontaine had songs released on the compilations 'Blue Light One' (Upstairs Recordings/Nettwerk) and 'Global Groove'(Sugo Music) alongside Thievery Corporation.
The self-titled cd 'phontaine'(brighton sound recordings/Position) is his latest release.
His tracks can also be heard on film and T.V (Sacred Planet IMAX, Las Vegas, The O.C, Ghost
Whisperer.
Official Website: 
http://www.phontaine.net