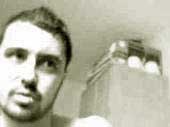 I started in somewhere around 1997 as Dj Funkee, playing House and Garage in bars and clubs on south coast of Spain. That summer I started to experiment with different styles, like Progressive House and Trance. The following year I organized nights called 'juicy' with a friend of mine. We played nights in clubs and bars all along the coast.
In 2000, I took on the name Dj D'FunK, moved to a town further up the coast and met up with 'Raveface.Com'. They are a group of guys who where producing and playing live on the Internet. By now I was into Deep House and Funky Tech House (hence the name D'FunK) I also liked to play the darker side of 2 Step Garage. I played as resident for Raveface.com, ElectroSound and Dance Kultur. Then in 2001 I started playing at festivals and clubs in Granada, Almeria and Torre Vieja, I started my own Show on Raveface.Com and my own nights called 'DeepSensation'. I stayed with Raveface.Com until the end of 2002.
Because of family and personal reasons I decided to move back down the coast. For a few years I played in clubs and bars in and around Malaga with some of the guys I knew from Marbella, I also played all the free parties around Granada. By now I was playing anything from Deep Electronic Lounge to House to Electro and Breaks.
In 2005 I dedicated to studying Music Production at the Point Blank College in London. But kept on Dj'ing in small trendy bars in and around North London, I was also invited to play at the first Rocket Festival in Andalucia, Spain and was invited back this year.This year I also moved to Manchester and since I have moved I haven't played in any clubs or bars, but I have a few dates for September and October. September at the Attic, in Oxford Rd, Manchester for Allien Radio. In October I'll be playing at The Honey Club in Brighton for the Mindbending and Schtum crew, who do warehouse and club nights through out the U.K. I'm currently studying for a degree at School of Sound Recording/University of Bolton, with the aim of pursuing my ambition to work in the audio industry.