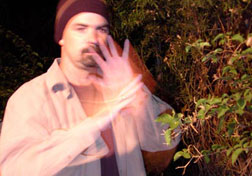 Michael Bross conjures up an electronic-fused, atmospheric, cinematic music landscape.
Heavily influenced by film soundtracks and electronica, composer Michael Bross creates a style that is emotional, haunting and beat-driven.
In the last few years, he has composed the soundtrack for the video games "Oddworld: Stranger's Wrath" (published by Electronic Arts, 2005) and "Oddworld: Munch's Oddysee" (published by Microsoft, 2001). Oddworld's games have sold 5 million copies worldwide. His work on these projects has won him several awards including the NY Festivals Gold World Medal in 2004 for "Best Soundtrack". He also crafted the scores for "Black Dahlia" (1998, published by Take 2), starring Dennis Hopper, and "Ripper" (1996, published by Take 2), starring Christopher Walken.
Currently he is working on a project for Red 5 Studios, another video game company. This game is being produced by a team who were key directors and producers on World of Warcraft which has sold over 6.5 million copies to-date.
Besides his score work, Michael has just recorded and released a new album in 2006, "Everything Is Now", a unique crafting of cinematic/hypnotic electronica.
Tracks: