She was born on 18 November 1966 in Nurenberg, made Berlin her home town, and without exaggeration she is the world`s most famous female DJ.
Over the past few years she has travelled the globe and given millions of fans pleasure with her typical, highly individual "Marusha DJ Set". Marusha`s amazing career began in 1991 in Berlin with her radio programme "Dancehall" which went out each Saturday on the young peopl`s station DT 64. When DT 64 had to close, Marusha changed the frequency and the name of her show. The Berlin station "Fritz" now carries Marusha`s "Rave satelite" once a week on 102.6 Mhz. To top this, the media multi-talent marusha surprised German-speaking television audiences with "Feuerreiter", her TV programme for young people. For 2 1/2 years it was transmitted by ORB and later ARD, and it was very popular indeed.
1994 was Marusha year.
"Somewhere Over The Rainbow" became her biggest hit ever. (It was number three in the Media Control Charts and with sales of over 500 000, it earned her a platinum award.) Never before had a techno track reached such a high chart rating. The following single "It Takes Me Away" was a similar success earning her a gold disc. In the summer of 1994 Marusha released her debut album "Raveland" which ist still one of the most popular dance albums of all times. Marusha`s success story continued through 1995. She performed innumerable gigs at home and abroad at almost all trendsetting parties in the techno house scene and was awarded the "VIVA Comet 95″ as "Best Techno Act", the "Echo Award 95″ as "Best Female Artist National". Apart from this, Marusha was nominated "Best Female Artist" at the "MTV Award 95″ in front of the Brandenburg Gate in Berlin.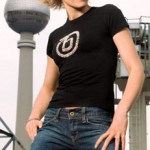 After a year's break from the studio and innumerable hours hard work as DJ, Marusha finally produced a new track. Her new single "Deep" climbed the familiar charts (number twelve in the Media Control Charts) as if there had been no pause at all. Subsequent simultaneous releases such as "Unique" and "Wir", Marusha's homage to all techno house scene fans gained similar acclaim. After "Secret" her fans again had to exercise a bit of patience. Then, in February 1997, Marusha finally presented something new again. In "Ur Life" Marusha gathered the many experiences and encounters she had made during her travels and summarised them in an orientating message. This is a track of musical maturity combining playful elements of hip hop, techno, and new wave to form an original CHANNEL SOUND. The single was an immediate hit in the club scene and made the expected impact in the charts, entering at 34 in the Media Control Single Charts. In april 1998 Marusha released her longplayer "No Hide No Run". This album contains her hole musical spectrum. It not only represents electronical dance music but also smooth ballades. This suprising mixture makes "No Hide No Run" to an very special experience.
Marusha has played at nearly all major events, parties and clubs all over this planet. At long least Marusha released her expected first Mix-CD in April 2002 and the resonance was magnetic!! In between she has started her production work again.
With the very successful release of the "Snow In July" maxi cd in October 2002 Marusha introduced new styles and influences to her crowd. The follow up, "ChaCha Maharadsha" was released in May 2003. Again were excellent remix works to be found on this record. And, her new album titled ³Offbeat² will be released on Ping Pong Productions in spring 2004.
Discography
12″
Rave Channel – Juni 1992
Whatever Turns You – März 1993
Go Ahead – Okt. 1993
Somewhere Over The Rainbow – Jan. 1994 / Remixe – Febr. 1994
Over The Rainbow, Mayday Rave Olympia Live EP – Mai 1994
It Takes Me Away – Mai 1994 / Remix – Juni 1994
Trip To Raveland – Okt. 1994 / Remix – Nov. 1994
Deep – Juni 1995 / Remixe – Juli 1995
Unique – Oktober 1995 / Remix – November 1995
Secret – März 1996 / Remix – April 1996
Ur Life – Februar 1997
My Best Friend – August 1997
Free Love – März 1998
Ultimate Sound – November 1998
Jet als Maru (Drum'n'Bass Projekt Marushas) – August 2000
Jumpstart – September 2000
Touch Base als MARU – Januar 2001
Chimes als MARU – Januar 2001
Were here als MARU – September 2001
Snow In July – Oktober 2002
Cha Cha Maharadsha – Mai 2003
Kick It (Heat) – September 2007
Album
Raveland – Juli 1994
Wir – November 1995
No Hide No Run – April 1998
Marusha NONSTOP Mix-CD – April 2002
Offbeat – 2004
Heat – to be released October 2007
Compilations
Marusha · jackfruit)))_LAVA_ping pong productions_berlin
Jumpstart – September 2000
Touch Base als MARU – Januar 2001
Chimes als MARU – Januar 2001
Were here als MARU – September 2001
Snow In July – Oktober 2002
Cha Cha Maharadsha – Mai 2003
Compilations
Rave Channel, Mayday – A New Chapter Of House And Techno `92
Whatever Turns You On Mayday – The Judgement Day 1993
Cardinal Points Of Life, Mayday – Rave Olympia 1994
Impressive Collective, Mayday – Reformation 1995
Merlin, Mayday – The Great Coalition 1995
Bewegungsapparat, Mayday – Mayday X 1996
Everybody Electrojack, Mayday – Life On Mars 1996
Check Dis Out, Love Parade Let The Sun Shine In Your Heart `97
Ravechannel Loveparade 2000
Remixe
Suspicious Lovewaves 1994
Westbam – Liberation 1994
Yves de Ruyter – Yvesday 1995
Tom Novy – I House You 1997
Bee Gees – World 1998
Söhne Mannheims – Dein Glück 2001 Trip To Asia (Movie) – Temple Remix 2007
Bookings
Jackfruit
International Artiste Republic
Hans-Otto-Str. 26
10407 Berlin
Tel: +49 30 4202 6460
Fax: +49 30 4202 6468