From a kid with a love for obscure new-wave and analog synths, to his current position at the reigns of Items & Things, Marc Houle has gotten major mileage out of his incredible talent as a prolific music-making machinist.
His journey has taken him from Richie Hawtin's club "13 Below" in Detroit, to a stint on the legendary Minus label, and now to his second album "Undercover," released in February through Items & Things.
The man is a virtual music machine, cranking out nearly 1,000 tracks in his lifetime, with a sound that pulls a bit of Chicago together with a little Detroit in a new-wave underbelly style.
For starters, give us a bit of information about your background?What were you doing before you started your music career?
I had a  pretty balanced background – played sports, was into computers in the olden days, always made music etc.  I was a drummer mostly growing up and switched over to synths in the 90s. Product of a well balanced, happy childhood i guess.  Then I started going to the Detroit parties.  Pretty much every weekend for a long time there were 2 or 3 parties to go to.  They were usually in underground locations such as broken buildings or abandoned warehouses.  There were also some great parties at Motor where our friends would all hang out.  For us Windsor Canadians, downtown Detroit was 3 minutes away and full of great music and parties. 
What type of music did you listen to when you were a kid? Who were some of your favorite artists?
I was always all over the board from Motley Crue to Depeche Mode.  As a drummer I loved anything with good drums in it – so Prince, Iron Maiden, The Police as well as some obscure stuff too.  I'm a synth freak so I was always drawn into new wave stuff as well.  Eventually I learned to mix the 2 worlds together and start producing.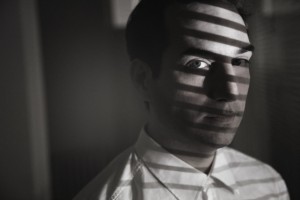 What happens to your unreleased and unfinished tracks? Do these tracks ever reappear in your work?
For sure they appear – When I'm traveling around playing shows I always include a bunch of unreleased stuff. I think i would go crazy if i was only playing the same bunch of tracks every week. It's nice for me to know that when i play live people are going to hear something special. Also live is where I test out all the stuff i was making during the week. It's funny how in the studio you can make a track but it's not until you play it for someone until you know how good or bad it really is.
Marc Houle – Analogik.com LIVE

Many people have an idealized image of your profession, fantasizing that you play sets in packed clubs and crowded festivals on the weekend and have all kinds of leisure time during the weekdays. What is the reality of your life ?
Umm? That's about it actually – although a few times a year there are some bad shows. and sometimes i play during the weekdays. I cook alot.
What are your thoughts on the mainstreaming of the techno/minimal sound? What effect do you think this will have on the music?
Yeah in the 70's it was all about the music. You might have ugly fat guys playing guitar and being famous but in the 80's when everything went video that sorta died out. When the market goes mainstream, the focus seems to stray from the music and it becomes more about image. I'm hoping our genre doesn't give way to that but it's what usually happens.
We have to ask: vinyls or CDs? Which do you prefer, and why?
I think that question needs to be augmented these days since some DJs use neither…. In my living room, vinyl. In my studio, weird stuff. On a plane, Mp3 and finally, at a club I play live so I make them move the turntables and CDJs so i have room for my live setup.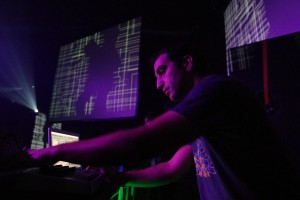 What is your creation process? Talk us step-by-step through the technology and equipment you use? What does your standard setup look like when you're performing?
For me it's more about experimenting and having fun and that means always changing my process. I might just run stuff out of an 808 to trigger some other machine arpeggiators or maybe start off with a vst or Reason even. It's more fun for me to try out new stuff and see what happens if i do something I'm not really supposed to do. I'm never bored making music and I think a big part of that is because I keep my methods fresh all the time. It wouldn't be much fun if I just followed a formula like most people seem to do. How can the scene evolve if you work that way? So ya – no real method but I do surround myself with lots of synths and drum machines from the early 80's which gives me a certain sound no matter what the method is.
Festivals or clubs? What are the benefits and drawbacks of these venues?
Clubs are always great because you can be face to face with people and play for a few hours to people are probably there to see you while at a festival it's often a crowd that have no clue who's on stage. But the thing about festivals is that you can convert people who might just be there for fun to our sort of stripped down funkier techno/house music. So both have their merits and I wouldn't want to do either exclusively.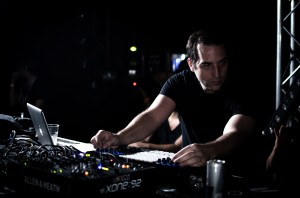 What is going on with your label right now? What are you working on? Anything new on the horizon?
We just finished up a super mega compilation and getting ready to release a new Click Box EP. I have a bunch of music prepared but not too sure on a release date or anything.
How did you, Troy and Magda meet. Is there an interesting story behind that?
Not really – We were all running around Detroit and hanging out with the same people so eventually we ended up realizing how well we worked together and how our musical styles and senses of humor matched. I think for Magda we were both DJing at Rich Hawtin's club in Windsor – 13 Below and I had asked her for some studio help in remixing a track.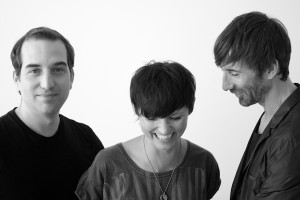 Which artists are you keeping an eye on? In your opinion, who is on the rise?
I might a bit partial, but I'm really into the Madato and Danny Benedettini stuff lately. They seem to have nailed the sound we're into on the head and continue to make new and fresh sounding stuff.
What sets an individual apart as a live performer? How does an electronic music producer decide if someone is a DJ or if he is a live performer? Do you think live acts are born, or are they created?
I dunno really – I'm a live act. I've always been a live act and have no business DJing. I'm not really into the latest and greatest top 10 and have much more fun playing my own stuff that I really love and know. I couldn't never be on stage and play other people's tracks and act like I'm a great DJ when i had nothing to do with the music I'm playing. I don't think less of DJs for doing that, I just couldn't do it myself. For me it would be pretty depressing to cue up someone else's music, hit play and do some fist pumps. I guess I just don't understand DJing. again – not slagging others for doing it, just something i could never do.
Push The (Sync) Button: To Sync or Not to Sync?
I don't think it matters anymore. let's say Sync so you can slave some real instruments along with your mix. I like watching my friends DJ and add some drums machines or cool effects that makes the music more their own and more fun to watch.
Websites:
Article by Anna Kec