Silicone Soul has a significant place in today's modern club music scene. This master DJ's duo by Craig Morrison and Graeme Reedie is bonded by their soulful remixes and sounds that are unique and interesting, true to their souls and to their music. It gave me great pleasure to meet and greet this musical duo.
For starters, give us a bit of information about how the Silicone Soul project got started. Give us the history on how the two of you met.
It was early in high school. I think we were about 14 or so. We went to parties, hung out and discovered we shared similar musical tastes. After that, we listened to a lot of music together and formed a band.
What type of music did you listen to as kids?
At first maybe it was the Detroit R'N'R influence, MC5, The Stooges…that sort of thing   😉
How did the production side of your career get started?
Going to clubs in Glasgow  like the Sub Club and The Arches really served as an education for us. We began to understand the minutiae of how the DJ entertains and inspires through mixing. That's really where our love for producing originated. We believe every producer and musician for that matter, is merely taking what they hear at first in the club and evolving techniques for use later in the studio. Every producer or musician strives to progress from being on the dancefloor to the studio.
What artists do you remember vibing to?
Some of out favorite Dj's when we started were Laurent Garnier, Ralph Lawson, Doc Martin, Slam & Francois K ,and a big influence was early 90's UK progressive house – like Guerilla Records.
Talk about your first big break. What did that feel like?
We started out with our own label called Depth Perception. We released two self-financed 12″'s in the late '90′s and we eventually got recognized by SOMA Records and released our debut, "Climbing Walls". So that was our 'break' really. The last track on our debut album  "…A Soul Thing", was what really gave us more international recognition. It was called "Right On 4 Tha Darkness" .Later we re-made the track and it became "Right On Right On".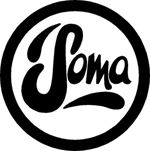 You're on the road a lot these days. Tell us about the most interesting places your career has taken you so far.
It's always difficult to narrow it down to just a few, but I'd say that being from Scotland any location would be  the ones that offer the most contrast to where we are from. Places like the Mediterranean can be exotic in so many ways… especially the sunshine!
CD's or Vinyls?
That is a very big debate right now. It really depends on who you ask, but honestly we're of the opinion that it doesn't matter, you can play really bad music in any format, including vinyl. There is so many ways to play music –  vinyl, CD's, laptops – regardless of how it's delivered, as long as the music is good and people enjoy themselves… that's the important thing.
When you first set out on this journey, did you have mentors or did you have to find your own way?
Soma Records were extremely supportive and helped develop our sound especially in the early years. In that time we really progressed as  Dj's and musicians. We learned the importance of playing deeper music as warm – up and understanding different electronic music cultures such as Detroit, New York, Chicago and tried to educated ourselves in different styles and genres.
Talk about your first gig. How did it come about?
Technically, our first gig was at the Arches in Glasgow, but the first big parties we played were the Roskilde Festival in Denmark and Pacha at Ofir in Portugal. That's when we started to Dj internationally.
Talk a little bit more about the Darkroom Dubs label? Where did the name and the concept arise from?
We like to think that  Darkroom Dubs expresses similar music to the name… heady and hallucinogenic melodies swirling through the final moments on the dance floor,  in the early hours! We hope Darkroom Dubs features the same kind of thrilling and surprising music in its artists, in the past few years we've released music by

Sei A, Gary Beck, Of Norway, Freska, Klartraum, Jairo Catelo, Antonio Olivieri, Luc Ringeisen, Edu Imbernon, Terje Saether, Kiki, Robag Wruhme and Alex Niggemann amongst others. The name itself comes from the old way of developing photographs, a hands-on process with an eye for quality over speed, and also from the 70's  Dub production techniques, which also favours careful, one-on-one interaction with music to create quality tracks.
What is it that you want your fans to know about? What do you want to promote?
We're preparing a new single for Soma  before the summer. Also we're releasing a remix album of tracks from our back catalogue (Silicone Soul – The Soma 20 Remixes). It's coming out in May 28th. We also have upcoming release on Darkroom Dubs by  Of Norway called, "Blot Ditt Eige Lam" and it's scheduled for late February .
I may be putting you on the spot here, but the fans are always anxious to know what top artists are listening to. What can we find in your CD player?
That's sort of the first thing you decide when you wake up and eat your breakfast! We listen to a lot of different types of music. We can go from late 30′s blues records all the way to Jimi Hendrix. But really, we try to keep my ears open to just about any type of music. As far as electronic artists go, there are so many making great music, that it would be really unfair to single out one. Although I will say a lot of the music we're  playing right now comes mostly from Germany but we get  lots of great demos and promos from all over the world.. There's a lot to choose from, so you just have to pick a song that fits the moment!
Did you ever get tired of it all?
Not at all, we enjoy every minute of it. If you think about what our job entails, you can't really classify it as work. We get to travel and enjoy so many different cultures, all while having an opportunity to be creative.
What message do you really want to convey to the readers of Analogik.com?
Just to give your all in whatever you do, enjoy the challenges life has to offer, and do it to amazing music.
Thanks guys!
Silicone Soul Ibiza Spotlight Podcast

Silicone Soul House Of Jasmine DJ mix

Article by Anna Kec