Quick Intro
Every month, an average of fifty thousand visitors make their way to one of the web's most reputable electronic music communities – Analogik.com.
Since 1999, Analogik has served millions of musicians, audio engineers, electronic music lovers, enthusiasts and media professionals. Our younger visitors are driven by entertainment and multimedia content such as flash games, music downloads, animation and videos.
Analogik continues to grow its busy community by forming successful business relationships with websites such as yours. We have the qualified audience and you have the goods!
Quick Facts (Recorded on February 2011)
| | |
| --- | --- |
| Resource | Remarks |
| Domain Name * | http://analogik.com |
| Google Position for "Electronic Music" | 2nd website out of 33,800,000 results |
| Open Directory / DMOZ Categories: | 2 |
| Monthly Traffic Approximation: | 10,000 visitors |
*Domain name ANALOGIK.COM has been contractually registered for a period of 100 years with NETWORK SOLUTIONS, LLC with the expiry date of 2105. Registrations are carried out in blocks of maximum renewal segments allowed by effective domain name legislations.
Contact Form
[contact-form 2 "Untitled"]
Statistics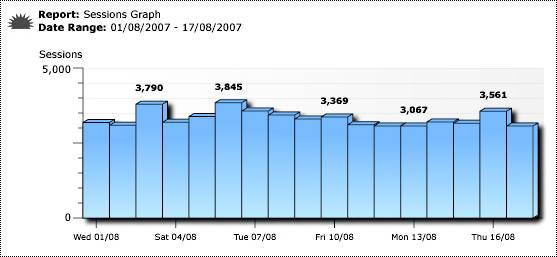 Daily Session Averages (August 2007)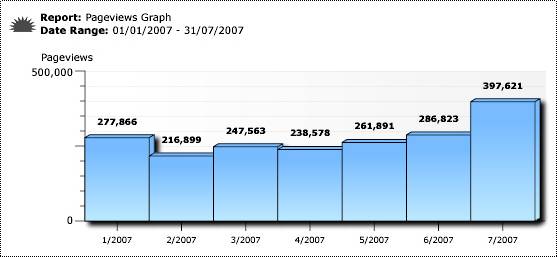 Yearly Page View Averages (January – July, 2007)
Advertising Options & Formats
Hosted Article
'Smarter Way to Engage'
Analogik audience is content driven which means that hosted content article is by far the most effective promotional tool for all advertisers. Feature your promotional article with a live link to your website. Submit your own text and images or get Analogik editorial team to write a promo article that will be best for your business.
Feature Image
'Full Visual Impact'
Place a large feature banner (760 x 200) with your products, services and promotional messages with a link to your website. This can be a JPG, PNG, GIF or Flash. Submit your own image/animation or get Analogik design team to design an ad for you.
Button Banner
'Content and Context'
This particular ad format is very interesting as it is typically not seen as advertising. This type of ad format is used mainly for mutual logo swapping between websites with similar topics. 
Pricing and Advertising Zones
| | | | |
| --- | --- | --- | --- |
| | Hosted Article | Feature Image | Button Banner |
| Front Page | $395 | $445 | $395 |
| Main Sections | $295 | $345 | $295 |
| Article Pages | $95 (SPECIAL!) | $145 | $95 |
| Site Wide | n/a | $1200 | $995 |
| Downloads Page | $295 | $345 | $295 |
.
Terms & Payment Methods
Analogik maintains a high level of advertising standard and only quality providers are welcome to our advertising program. We reserve right to reject any advertising material for quality purposes.
All payments are based on monthly recurring credit card subscriptions facilitated securely via PayPal . You do not need to join in order to set up your recurring payments. Alternative billing cycle may be organized upon request.
Getting Started
Get in touch with our marketing department via our contact form or call +61.408.870.823 – We're available 7 days a week and looking forward to a successful partnership with your company.