Lots of people would like to know something about your personal background. What was
your life like before your music career? How did you know you wanted to pursue music?
Music has always been around me. As a child, I remember I could spend hours browsing radio stations at home.
Rodriguez Jr. – Podcast Analogik – 01.2014

This is how I heard Kraftwerk, Depeche Mode or Jean Michel Jarre for the very first time – I am definitely an 80's child.
I'd started taking piano lessons at the age of 6, and I eventually became fascinated with how one could produce sounds from outer space using electronic devices and computers. This is how it all began.
Years later, I produced my first tracks in my bedroom studio with a couple of synthesizers and an Atari computer.
Things became really serious when I realised that there was a chance I could fail at the university where I was studying Mathematics (at least I was trying to…).
At that time, I was gravitating in a network of musicians and artists in the South of France, and I was lucky enough to meet the right people. In the year 2000 I eventually got the opportunity to be signed for an album with The Youngsters – my former band – on Laurent Garnier's imprint F-Communication, which was one of the biggest steps in my whole career.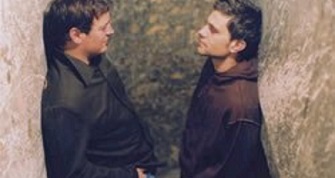 What was one of your first musical inspirations? Did you have a group, performer or artist that was your favorite?
Jarre was the one who really changed my vision as a child with his blend of poetic electronic landscapes and melodies. I guess his influence is still very present in my music nowadays, as melodies are often at the core of my tracks. But it was also all about Kraftwerk, Tangerine Dream, Art of Noise, Depeche Mode. When dance music exploded in Europe in the 90's, I was the biggest fan of WARP Records: LFO, Aphex Twin, Boards of Canada… That was fucking insane.
Bittersweet is your first album? Tell us about some of the ideas and influences that went into the album and how making it differed from producing a single or a remix?
An album is a statement, since you have more space, freedom and possibilities to express yourself on a longer format. In my opinion, an album should be colourful, diverse and consistent at the same time.
On Bittersweet, I wanted to showcase a wide spectrum of influences – house music, techno, dub, pop, ambient… Before I began to record anything in the studio, I drew some kind of a storyboard on a sheet of paper, including the progression of the whole album and the different categories of sounds and textures.
Your release "Back To Back" on Mobilee. How did the project come up? And what was your approach to arranging the music?
Basically, Anja and Ralf asked me to do it! It was quite a big challenge to be in charge of it, after some nice editions and the big success of the previous one selected and mixed by Pan Pot, which included a video documentary about them. I knew I had to develop the concept and find a new way to push the label upfront. My original concept was about producing one hour of original music using loops, samples and sounds from the Mobilee in-house acts who had enough time to spend on this project – it would be like jamming all of it together. It's been tough and challenging, as I had a lot of material to handle in a short period of time: only 4 months to produce the whole album. But in the end I am very proud of what all of us accomplished together!
What are your thoughts on the mainstreaming of the techno/minimal sound? What effect do you think this will have on the music?
Getting a wider audience shouldn't be a shame. Some artists manage to be mainstream, while still being very consistent and inspiring: Bjork, Bowie… I mean, being 'mainstream' is not a shame if you manage to be honest with yourself and remember your roots. I obviously don't talk about these DJs trowing cakes in the crowd here! But, all in all, it's a good thing to have more people being attracted by this kind of music.
How did Laurent Garnier influence you, and what do The Youngsters mean to you?
Laurent Garnier has been a big influence since his first album 'Shot In The Dark'. I remember when I heard this album for the very first time – it has possibly been one of the reasons why I decided to produce this kind of music. Being involved in his label F-Communications has been a great experience.
Vinyl or CDs? What's your preference?
I am still a vinyl fetishist and I have quite a big collection. But honestly, music is the most important, no matter which medium you use. I don't mind playing with CDs, USB sticks or computers… That's definitely a wrong debate.
There are a lot of trends in electronic music. What are your thoughts on some of these trends, for instance slowing down BPMs?
I've just listened to a live set I did in 1999 which was running at 141 BPM – that's scary. I wouldn't survive that today. Slowing down BPMs can have a positive influence on the groove.
What type of performance equipment and staging do you generally use, and how is it transported, set up and ultimately disassembled?
My setup is very compact, as it's becoming more and more difficult to travel with equipment every day.
Furthermore, interacting a lot with a compact easy setup is much better than getting lost with loads of gadgets and shit.
I basically use a laptop computer running Ableton Live, a couple of controllers (Native Instruments Maschine and an iPad running TouchOSC with my own templates), plus a master keyboard which I am using more and more to play and improvise. Next year I might decide to travel with a second laptop running more synths and synchronised visuals.
What determines an individual as a live performer?
No idea! But you definitely have to enjoy playing your own music, and connect with different kind of crowds.
How did you connect with Mobilee and how would you describe your collaboration with Anja Schneider and Ralf Kollmann?
That's an old friendship. I met Anja and Ralf more than 10 years ago when I got invited to Anja's radio show 'Dance Under The Blue Moon' in Berlin. Ralf & Anja were already deeply involved on the German music scene, throwing parties and so. We have always been in touch since then. And they helped me a lot when I launched my solo project. Sometimes life brings the right people on your path. They have been awesome artistic advisers and I'm so proud to be part of Mobilee nowadays. It's not only a label, but also a wonderful family. I am sure people could feel this unity during our several showcases.
Tell us something about RoofTop sessions in Hotel Diagonal. What's the plan?
I guess it's all about showcasing our music in some of our favourite arrangements: an open air rooftop, with a great sound system, amazing view, and the people we like. I love to hear my music in this kind of arrangement.
Your plans for 2014?
Basically, I am gonna keep on touring and working in the studio – I am currently recording new material for mobilee. And possibly a new album for 2015. It's gonna be a busy year.