Best Laptops for Music Production in 2022
What Makes a Laptop a Good Choice for Music Production
When choosing a laptop for music, there's a few things to weigh in the balance. Music production – similarly to video editing – is a labour-intensive endeavor for a laptop. No matter if you're a hobbyist or a touring and recording professional, you want a tool that doesn't compromise on power and performance when handling your Digital Audio Workstation (DAW) or any other of your staple music production applications.
Power vs Performance vs Weight
You want a CPU that performs steadily so that there is no lag in rendering your tracks or recording music. At the same time, it's ideal to have a laptop that doesn't burn through the battery life in a flash during high-performance. And, when you're handling several audio files, it's best to have a reliable SSD hard drive on board so you can access and manage files seamlessly. Then, there's also the issue of weight. Lugging around a heavy laptop is never ideal.  But a very lightweight laptop may imply stripping it of a lot of ports and other hardware such as a fan.
Spec Grade vs Price
When looking at the spec requirements to handle high-grade music software, it's generally advisable not to settle for minimum requirements. You want a machine that won't drag itself painfully when recording music or performing live.
With all this in mind, price may be a concern. While it is true that a powerful laptop that ticks all the boxes, it can easily become a considerably big financial investment, there's stiffer competition, and some brands are setting a lower price entry point on some of their models.
With all this considered, we've put together a list that will help you pick the best laptop for music producers in 2022. But before that, we introduce the top brands according to processor – intel core laptops, AMD (Ryzen) laptops, and Apple laptops.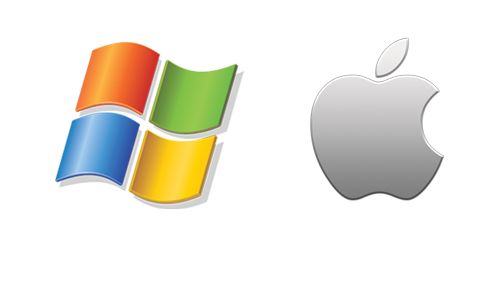 Choosing the Right Processor for Producing Music
There are three key developers for processors (CPU) that dominate the market – Intel, AMD and Apple.
Intel as Market Leader
The market leading one in terms of distribution is Intel by far. Current generation chips range from i3 to i9, and most laptops use mid-range chips – i5 and i7. The speed per chip – measured in GHz – varies from one model to another within the same category.
AMD as Top Gamer's Powerhouse
AMD develop chips known as Ryzen, also categorized numerically just like Intel chips. These ones tend to be gamers' go-to processors.
Apple as Top Creative Suite
Then, standing in a category of its own, we have Apple. Loved by many, less by others, Apple has been developing processors that lead the way in creative fields for years now. And when competition seemed like it was finally neck-to-neck, Apple went ahead and revealed its M1 – and soon after, the enhanced M1 Pro and M1 Max. This combined several components onto one chip, boosting efficiency and power even further.
Apple's Pros and Cons
At first glance, it would seem that Apple is the way to go, especially considering that it's the only viable platform to run Logic Pro on – a popular choice for recording music. But Apple has drawn up a high wall of exclusivity around its products. Due to this, third-party application compatibility suffers a lot. This is aggravated even more with the development of the M1 chip. Many third-party developers haven't made the transition yet and are not able to offer native support. Ableton and Akai are all caught up but brands like Pro Tools are yet to make the M1 leap.
How Do You Choose?
The best way to choose a new laptop is to take into careful consideration what your setup is. If compatibility issues don't creep up and a steep price doesn't deter you, take a close look at Apple's MacBook. However, if compatibility or the idea of too much inflexible exclusivity are an issue, Intel or AMD are better choices.
Our Top 5 Choices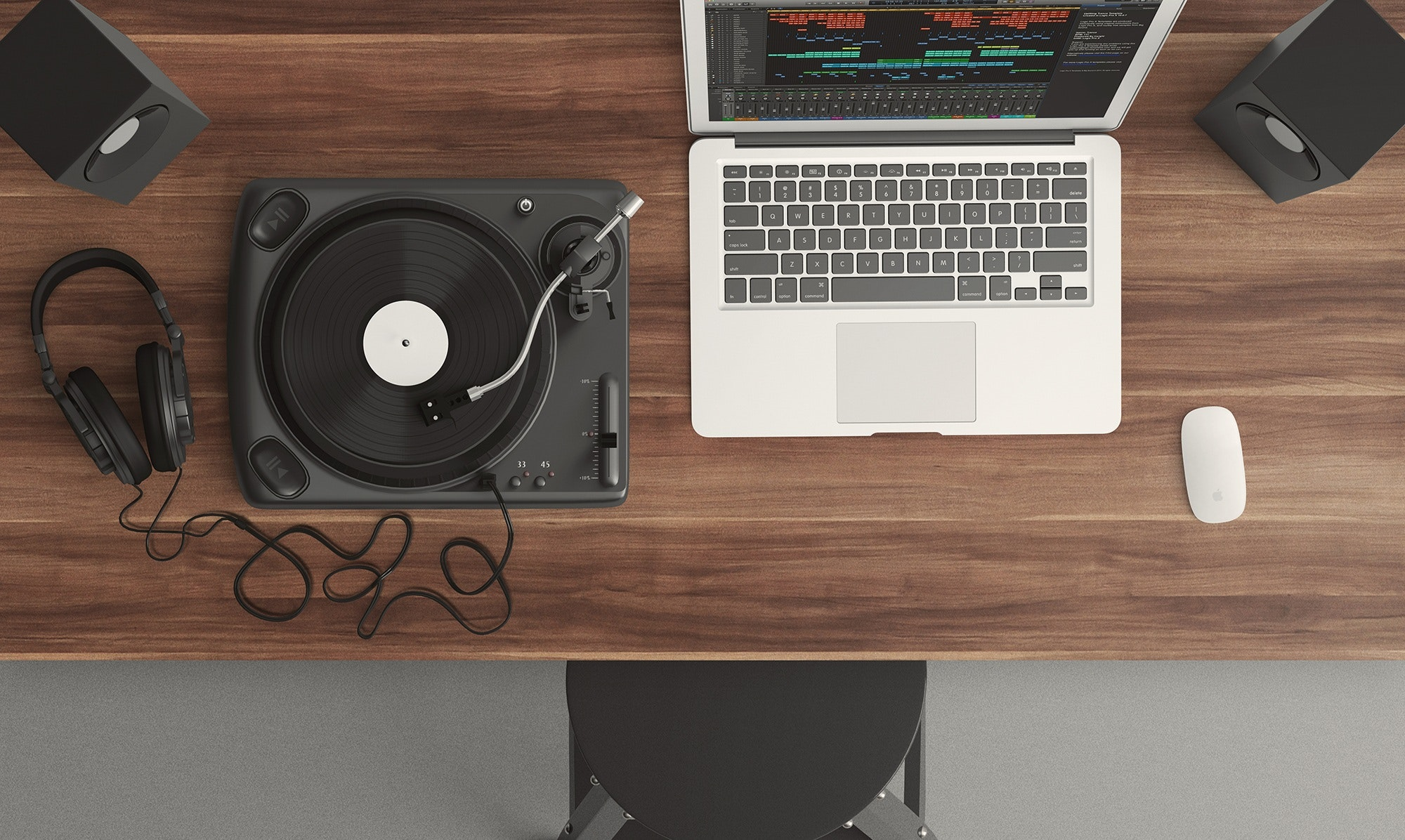 1. Apple MacBook Pro 14″
Specs
CPU: Apple M1 Pro chip; 8-core CPU with 6 performance cores and 2 efficiency cores; 14-core
GPU: 16-core Neural Engine; 200GB/s memory bandwidth
RAM: 16GB unified memory
Storage: 512GB SSD
Display: Liquid Retina XDR
A King of a Music Production Laptop
Apple's uninterrupted reign as a favourite laptop brand among creatives  – both pro and hobbyists – cemented its position even further when it loaded its MacBook Pro 14-inch with M1 Pro and M1 Max chips last year.
Apple's M1 CPU and Storage Space
The new trend started a year prior with the novel M1 chip. Since then, not much has changed in terms of the laptop's industrial look. But under the cover, it received a remarkable boost in CPU performative power and graphics speed. It comes loaded with 8 Core CPU, 8 Core GPU and 16 Core Neural Engine. And, if breaking the bank is not an issue, you can spec it out with 64GB RAM and 8TB SSD storage.
Apple's Macbook Pro Display
The display is exemplary. Its XDR retina display's brightness peaks at 1600 nits. It accommodates a wide array of colours. Thanks to True Tone technology, the machine automatically balances white in relation to its surroundings' colour temperature.
Apple's Macbook Pro Camera and Mic
As expected from a top pick among music producers, the MacBook Pro's audio interface and in-built speakers are the best you can find on the market. The HD camera is capable of serious noise reduction, and this, along with its high-grade mics, will give you the best video calls.
Apple Macbook Pro Peripherals
A MagSafe charger that replenishes the battery – capable of excellent battery life – an SD card slot, an HDMI port and three Thunderbolt 4 ports just make this choice laptop an even sweeter deal.
Apple's Macbook Pro Software Compatibility
One more vital reason that places Apple's platforms squarely on the podium is that the hardware plays extremely well with its home-designed software. Whether we're talking about its own macOS or other programs developed in-house, these last few years have seen Apple reduce performance issues to a negligible minimum, while tweaking access and user-interface. Die-hard fans are not the only ones to be pleased; newcomers making the transition from other operating systems will sync in no time.
2. MacBook Air M2
Specs
CPU: Apple M2 chip; 8-core CPU with 4 performance cores and 4 efficiency cores; 8-core
GPU: 16-core Neural Engine; 100GB/s memory bandwidth
RAM: 8GB unified memory
Storage: 256GB SSD
Display: LED-backlit display with IPS technology
Lightweight Younger Brother of the King
Apple occupies the second place as well with its second iteration of the MacBook Air introduced earlier this year – loaded with an M2 chip. This compact laptop weighs in at a negligible 1.24 kg, and it's in its slimmest form ever – only 11.3mm deep. A more economical alternative to the Macbook Pro, and one of the all-round best value laptop choices.
Apple's Macbook Air vs Its Bigger Brother
Realistically speaking, it falls somewhat short of its bigger brother's high-grade music mixing and mastering capabilities. But it can still handle all music applications and software with remarkable ease. So, for a music production platform, it still cuts it by a wide mile. What's more, it's equipped with four speakers capable of Spatial Audio, and music playback is crisp and clear.
Macbook Air Peripherals and Battery
Other perks include a battery that gives you up to 18 hours of performance – not bad compared to MacBook Pro's 20 hours. It also comes with 2 Thunderbolt USB 4 ports.
Stripping Down and Testing the Macbook Air
There's been a lot of talk about MacBook Air's lack of a fan. Heating up was a potential issue skeptics brought up. But a few tests using benchmark music projects as listed on logicprohelp.com showed that the Air only increased slightly in temperature. This adds a notable advantage for music makers. Working with a laptop that doesn't have fans means a quieter environment to work in when using mics.
3. Dell XPS 15 OLED
Specs
CPU: Intel Core i7-12700H
GPU: Nvidia GeForce RTX 3060 Ti.
RAM: 16GB
Storage: 512GB SSD
Display: 15.6-inch OLED touchscreen
Dell's 15-inch iteration to the XPS range is one of the top choices for music producers who favour Windows OS-powered devices. It's not just glitz and glamour due to its appealing looks – it harnesses some considerable processing power. Unless you go for a high-grade gaming laptop, it's the closest you'll get in terms of quality, performance and power to a MacBook Pro without signing up for Apple exclusivity. It can handle creative workloads remarkably well.
Intel Alder Lake Processor
It packs the new 12th generation Intel Alder Lake processors, RTX 3050 Ti GPU, and an all-round faster RAM than many contemporary competitors, many of which have higher specs. Dell has pulled off the impressive feat of fitting their relatively powerful GPU within a ¾ inch chassis. The concern here is cooling. This is something Dell had to forego, along with a reduced number of ports, so as to keep everything compact.
Dell's XPS Display
Despite being very thin and lightweight, it comes equipped with one of the sharpest displays currently available on a laptop. It's capable of up to 500 nits of brightness. The keyboard is lined with carbon fibre palm rests – making it as comfortable to use as it looks classy – and a total of four speakers.
Dell's XPS Battery Life
While it doesn't have the extremely long battery life Apple's MacBook has, it can give you up to 12 hours of life, which is a lot for the power-hungry Alder Lake processor.
Dell's Price
While slightly more economical than the MacBook, it's price entry point is not quite friendly anyway. if you take it an extra mile and upgrade the hard drive and other specs (maximum  specs vary according to your region), the price bar rises fast.
4. Razer Blade 15 Studio Edition
Specs
CPU: 10th Gen Intel Core i7-10875H processor, 8 Cores / 16 Threads, 2.3 GHz / 5.1 GHz (Base / Max Turbo), 16 MB Cache
GPU: NVIDIA Quadro RTX 5000 with Max-Q Design (16GB GDDR6 VRAM)
RAM: 32GB
Storage: 1TB SSD
Display: 4K OLED, Touch, 100% DCI-P3
Razer Blade's Processing Power
Gaming laptops have been long hailed as some of the best power platforms for music production. And Razer is held in the highest regard within that niche. The Blade 15 Studio edition spares no punches with its 8-core 10th generation i7 processor, 1TB of PCIe NVMe storage, and 32GB of DDR4-2933MHz RAM.
Razer Blade's Peripherals and Innovative Functionality
This slim monster has a processing speed clocking in at 5.1GHz Max Turbo and a stunning 4K OLED touchscreen. It also utilizes Wi-Fi 6 and Thunderbolt 3. And, one of the most innovative features is its liquid cooling system, which keeps temperature under control even when you're placing the machine under performative duress.
Razer Blade's Unforgiving Price
So, why doesn't such a beast of a laptop score higher on our list? The answer is simple – the price. This machine comes with a price tag hovering on either side of 4K USD/EUR. If you thought that the MacBook Pro's entry price was steep, think again.
A Gaming Powerhouse as Laptop for Music Production
That said, if you're as passionate about music production as you are about gaming, make no mistake – Razer Blade 15 Studio Edition (along with a handful of other Razer laptops) is the money shot. And if you happen to be a music producer who makes music for games, even more so.
5. Microsoft Surface Pro 8
Specs
CPU: Quad-core 11th Gen Intel® Core™ i5-1135G7 Processor OR i7-1185G7 Processor
GPU: Intel Iris Xe Graphics (i5, i7)
RAM: 8GB
Storage: 128GB SSD
Display: 13" PixelSense Flow Display (with 10-point multi-touch)
Microsoft Surface 2-in-1 Magic
Microsoft's 8th surface laptop is the latest entry in its series that has gained a lot of traction among creatives over the years. One of the main reasons for this is that it's often quoted as, hands down, the best 2-in-1 laptop out there. It's versatile, light (less than 2 pounds), and powerful.
Surface Pro Power and Performance
Whether you choose the 13- or 15-inch surface laptop flavour, you'll have a 120Hz touchscreen and the power of an Intel Evo Platform Core i7 CPU at your finger (our touch pen) tips. The battery gives you up to 16 hours of life – one of the best in the field. You can choose to have it come with 8, 16 or 32GB of RAM, and up to 1TB of SSD storage. This last option is worth the stretch if you want all your music files saved locally. More on hardware as the Surface 8 Pro also comes loaded with Wi-Fi 6, USB-C and Thunderbolt 4 ports
Surface Pro's Seamless Integration with Microsoft OS
There's also a seamless integration between the surface laptop hardware and Windows 11 OS, making your music production sessions smoother. At the same time, as tends to be the case with integrated systems, the power in performance is limited when compared to other contenders built from discrete parts. That said, this machine packs enough power to handle some of the most demanding creative endeavours.
Surface Pro's Multipurpose Advantage
And, there's no denying that the Surface Slim Pen and the detachable Signature Keyboard give you the comfort of sketching out your ideas in one mode whenever they pop in your head. Then, convert it to laptop mode, and you're ready to flesh those ideas out on your favourite music production bundle such as Reason+. And with the surface laptop battery life having been extended to 16 hours, this platform won't let you down when you're in the middle of your creative flow.
FAQ
What laptops are best for making music?

If your setup allows it and you don't mind 3rd party software exclusivity, Apple's MacBook Pro continues to top most lists as the music production laptop of choice.

Which laptop processors are the most common for music production 2022?
Intel, AMD and Apple processors (CPU) are the most popular three choices in 2022.
What laptop do most producers use to run Digital Audio Workstation software (DAW)?

When choosing a laptop for your Digital Audio Workstations (DAW), Apple is the only that handles Logic Pro. Reason, Ableton and Akai give you the choice of any processor since they offer native support in all cases. At this time, Pro Tools does not function on Apple's M1 chip.
Are gaming laptops good for music production?
Absolutely. The sheer performance and power laptops such as the Razer Blade series offers are optimized to handle heavy creative workloads as well. The only deterring factor for some is that they tend to come with a high entry price point.