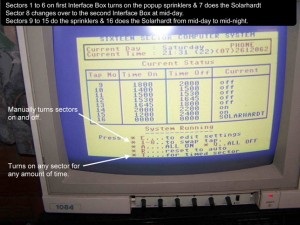 Sectors 1 to 6 on first Interface Box turns on the popup sprinklers & 7 does the Solarhardt
Sector 8 changes over to the second Interface Box at mid-day.
Sectors 9 to 15 do the sprinklers & 16 does the Solarhardt from mid-day to mid-night.
Magic Voice says
– Please put out the milk bottles.
– Please put out the rubbish bin
– Warning when the Solarhardt is too cold
This thermistor records the temperature on the bench. Another thermistor is glued to the Solarhardt & measures the temperature of the Solarhardt. When between 3am & 7am and 3pm and 7pm and temperature is under 30 degrees it turns it on until 40 degrees is reached.